Get Free Sample Flute Lessons, Etudes, Excerpts and Solos from Jeffrey Khaner
You're just moments away from gaining access to SEVEN FREE Flute Lessons, Flute Etudes, Orchestral Excerpts and Flute Solo Pieces from legendary Flutist Jeffrey Khaner.
These Free Sample Flute Lessons are just a small part of what Mr. Khaner's Online Classical Flute School has to offer. You'll have full access to hundreds of video flute lessons, etudes, excerpts and solo repertoire - but that's just the beginning.
As a member of this revolutionary new learning community, you'll have the ability to submit your practice videos to the site and receive personalized video responses from Mr. Khaner detailing your strengths and areas for improvement.
Getting one to one feedback from master performer/teacher Jeffrey Khaner will dramatically improve your technique and will give you a competitve advantage for auditions and competitions. Your satisfaction is guaranteed.
Sign Up Now for Your Free Sample Flute Lessons!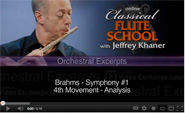 Fundamental Flute Lessons:
Breathing
Flute Exercises
Flute Long Tones



Flute Etudes
Kohler Opus 33 - Analysis
Bitsch #1
Orchestral Repertoire:
Brahms - Symphony #1 - 4th Movement

Beethoven - Symphony #4 - 2nd Movement

Flute Solo Repertoire:
Bach - Sonata in E minor - 1st Movement- Performance with Piano