FREE SOLO JAZZ GUITAR COURSE from Martin Taylor
Join thousands of guitarists just like you who have mastered Martin Taylor's fluid, multi-layered solo jazz playing style with online lessons from the worlds #1 most trusted jazz guitar teacher. Here's how it works…
But first, a simple question. Have the DVDs, instructional books and guitar workshops you've bought made you the jazz guitarist you know you can be? If you are part of the 1% whose playing really improved by using those products then this site IS NOT for you. However if those static, expensive and inconvenient ways to learn haven't made you a better player then you have come to the right place. Here's why:
DVD's, method books and most guitar lesson websites only focus on one-way, static, one-size-fits-all learning. You never get the personalized feedback from the instructor you really need to improve and the result is that you learn a series of unrelated tips and techniques but never break out of a plateau in your playing or get the most fulfillment. That's where the Online Guitar School with Martin Taylor and Video Exchange™ fits in...
You can actually show Martin what you're playing and he can respond with video feedback. It's amazing stuff...but first things first, sign up at the bottom of this page to get the free lessons to find out how it is.
What The Free Course Covers:
Get the free jazz guitar video course from from award-winning online guitar teacher Martin Taylor. These free jazz guitar lessons cover: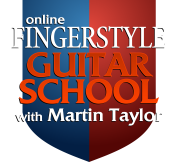 Jazz Guitar Chords using the Jazz Guitar Scaffolding System
Jazz Guitar Improvisation
Jazz Guitar Scales
Jazz Guitar Progressions
Jazz Guitar Voicings & Phrasing with guest Julian Lage
Walking bass lines with comping
Learn by playing tunes
Creating your own jazz guitar arrangements using 'guided arrangements'
Sign up for the 'Free Jazz Guitar' video course today and find out how to become a better jazz guitarist.
Enter your details to receive the free jazz guitar course now!!